Over the past few years as the Southpointe Business Park became a national and international hub, especially for energy related companies, a local Cecil Township Supervisor, Frank Ludwin, had his own vision for the Park. That vision was to connect Southpointe with the Montour Trail as a recreational facility that would hopefully bring together Cecil Township residents and the employees who would one day live and work in the Park.
Although Frank passed away late in 2014, his vision has evolved into the Southpointe Connector Trail Project designed to connect Southpointe to the Montour Trail as part of the Cecil Township Klinger Park Project. As the lone visionary supervisor, he donated the use of his own earth moving equipment to begin the task. Today, the project has evolved into a joint effort among the Cecil Township Supervisors who own the property; the Marcellus Shale Southpointe Chamber of Commerce who see the economic value for the project; and the Montour Trail Council who plan to maintain the Trail once construction has been completed.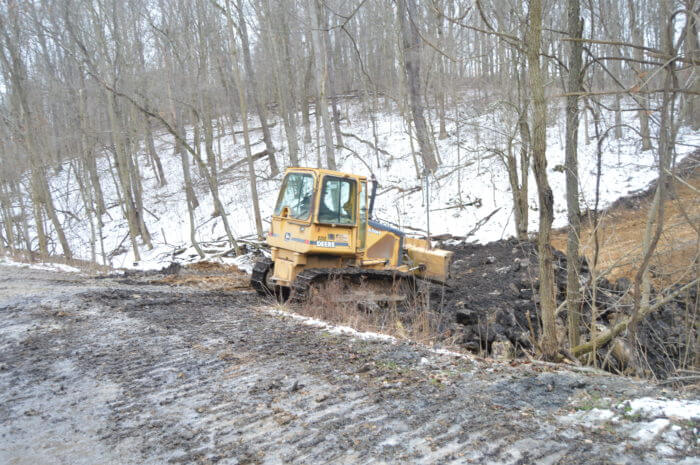 The trail surface will be paved with a crushed stone base and 2" of
bituminous material.
At the present time, Gateway Engineering has completed the bid ready trail design at the request of the Cecil Township Supervisors, and projected the cost for the 1.15 mile Trail at $361,875. As part of the design, Gateway divided the Trail into three sections that include: Montour Trail to Reserve Drive, Reserve Drive to Klinger Road and Klinger Road to Corporate Drive.
In summary, Frank Ludwin's vision to connect the Montour Trail to Southpointe via Klinger Park has now become the dream of the Cecil Township Supervisors, Montour Trail Council volunteers and the Marcellus Shale Southpointe Chamber of Commerce members. As a way to raise the estimated $361,875 construction costs, these three organizations are requesting donations that may include naming rights, direct donations and/or honorariums. As part of that process, a plaque will be erected in Klinger Park that is designed to name every individuals and/or corporation willing to help fund this project.
If there is an interest, please contact Dale Risker, President, of the Marcellus Shale Chamber of Commerce at
dale_risker@yahoo.com or (724) 350-5562 for more information.