On June 16, 2016 the Southpointe CEO Association honored two deserving men with their World Class CEO award. Charles C. Keller, founding partner and senior counsel of Peacock, Keller, & Ecker and Douglas G. Lee, President of Waynesburg University. The Southpointe Chamber of Commerce was happy to donate our services and equipment as a media sponsor to recognize these two esteemed men.
Charles C. Keller has practiced law for 65 years, representing both corporate and individual clients in business, estate and litigation matters. A 1947 Summa Cum Laude graduate of California State College, Keller received its highest undergraduate honor - the Distinguished Service Award. Keller went on to earn his law degree from the Law School of the University of Pittsburgh, graduating in 1949. After years of courtroom experience, including cases before the Pennsylvania and United States Supreme Courts, Keller was elected a Fellow of the American College of Trial Lawyers in 1989. Throughout Southwestern Pennsylvania, Keller has also impacted the quality of life with his leadership roles in the Washington County Bar Association, Mon Valley Hospital and the Washington County Community Foundation. Known for his involvement with Rotary International, Keller has served as the organization's President and Foundation Trustee Chair along with many other senior roles since joining Rotary in 1950.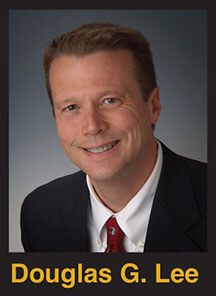 Douglas G. Lee joined Waynesburg University as executive vice president in October 2009. He was unanimously elected president of the University by the Board of Trustees in September 2012 and took office July 1, 2013. Prior to Waynesburg, Lee was a partner in the law firm of Steptoe and Johnson, PLLC, where he worked for nearly 20 years. Under Lee's leadership, Waynesburg University has received national attention for the economic outcomes of its graduates. The University is also a Pittsburgh Business Times "Best Place to Work for 2015." In March 2015, the Middle States Commission on Higher Education reaccredited Waynesburg University for a 10-year period. Currently, Lee is leading the $23 million revitalization of the Paul R. Stewart Science Hall. Lee was named to the Pennsylvania Business Central's Top 100 People list of 2013 and has been recognized in The Best Lawyers in America.
About the Southpointe CEO Association
The Southpointe CEO Association advances the interests of businesses and business people located in Southpointe and Southpointe II. The Association promotes Southpointe and Southpointe II as a premier place to work, live, and play. It provides programs and events to meet the financial, educational, and social needs of both corporate leaders and their employees.