Be a part of the growth that is happening in Southpointe!
Advertise in the upcoming issue of the Southpointe Directory and Quarterly Report/Racetrack Road Directory! This is an excellent opportunity for you to showcase your products and services to the decision makers of businesses throughout the region. Ad reservation deadline for the Q2 2023 Issue is October 21! Email DeDe@southpointechamber.com to place your ad. A 60% deposit is required at the time of order. Balance is due upon printing of the final product.
Check, cash, or credit/debit card is accepted. Ad spaces will be sold on a first-come first-serve basis.
2022 Publishing schedule with deadlines
| | | | |
| --- | --- | --- | --- |
| Magazine Edition | Ad Reservation Deadline | Material Deadline | Publication Date |
|  Q1 2022 | January 20 | February 3 | February 10 |
| Q2 2022 | April 7 | April 14 | April 21 |
| Q3 2022 | July 21 | August 4 | August 11 |
|  Q4 2022 | October 20 | November 3 | November 10 |
Interested in advertising? Call DeDe at 724-873-7777 ext 25
Ad Reservation Deadline for Q2 2023 Issue is April 7!
Email DeDe@southpointechamber.com to place your ad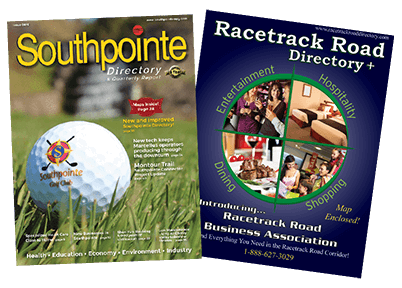 Circulation Data
---
10,000+
readers throughout Western PA.  Who reads Southpointe Magazine?  Mostly business managers, executives and decision makers in Southpointe and into Pittsburgh.
---
1,400+
homes in and around Southpointe  This consists of high end $500,000 and up executive homes in and around Southpointe.
---
500+ businesses
in Southpointe business park and Racetrack Road.  Southpointe Magazine is in the lobbies,  board rooms,  hotel front desks and restaurants in Southpointe.
---
Restaurants, hotel lobbies and rooms, high traffic areas in and around Southpointe and the Racetrack Road corridor.
Two main entrance kiosks in weather proof boxes for visitors (exclusive arrangement with SPOA).
Hand delivered to all executive homes in Southpointe and surrounding communities.
Distributed at all Southpointe Chamber events including monthly luncheons, network events, and mixers.
Tradeshow visitors and exhibitors (Regional shows at David L. Lawrence Convention Center in Pittsburgh, in Washington County at the Southpointe Golf Club, the Southpointe Hilton Garden Inn, and the Double Tree on Racetrack Road).
Online on the SouthpointeChamber.com website.